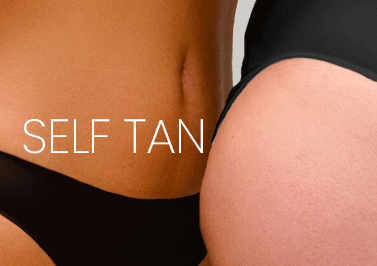 EXPLORE OUR SELF TAN COLLECTION
Whether you prefer a tanning gel, mousse, mist or lotion, we've got the self tan for you. Explore our range of self tan to achieve a natural-looking glow in as little as one hour.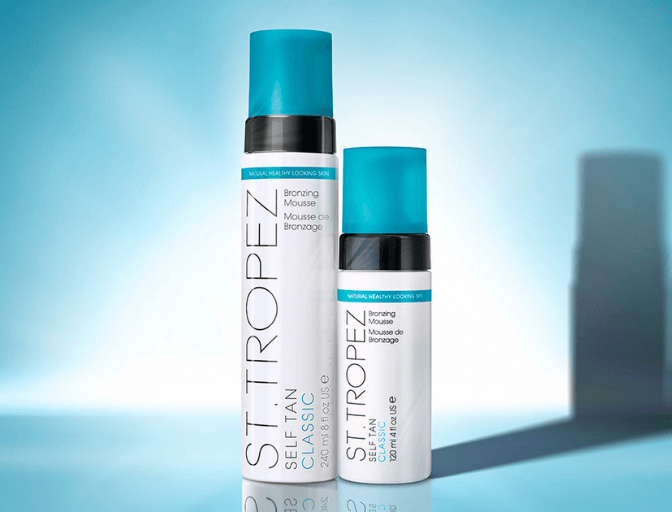 SELF TAN CLASSIC
Our golden tinted Classic Mousse is multi award-winning foam formula is lightweight. Best for first time tanners or trusted results time and time again.
Medium Golden Tan
Lightweight and quick-drying with no transfer onto clothes or bedsheets
Rinse off after 4-8 hours for a natural golden tan that lasts for up to 10 days with even fade.
No self tan smell with our mood-boosting signature fragrance
100% clean, vegan-friendly & natural tanning active
SHOP NOW
LEARN MORE
SELF TAN EXPRESS
Made with a premium and 100% natural DHA blend, you can be confident of natural-looking results every time with our award-winning and bestselling range.

Develops over 4-8 hours but can be washed off after 1 hour
Perfect for fast results or those looking to find the right color to suit them
Best applied weekly with a mitt on clean skin
Infused with our signature fragrance for no fake tan smell
Michaella Bolder, St.Tropez Skin Finishing Expert says, "Express Gel has arrived! One of the St.Tropez top sellers just keeps getting better. The gel formula allows for a deeper tan, whilst gliding over the skin flawlessly - it's a tan lover's dream."
SHOP NOW
LEARN MORE
SELF TAN - PURITY
Simply apply and glow any time of day with our revolutionary and easy-to-use tanning waters. These lightweight and tropically scented clear formulas can be applied day or night, with no need to rinse off, no transfer onto sheets or clothing and no tell tale tanning smell - for a natural looking golden tan that lasts for days. Best for an everyday glow all year round or pale skin.
Medium Golden Tan
Easy-to-apply with a tanning Mitt
NO rinse | NO streaks | NO transfer | NO self tan smell
100% clean, vegan-friendly & natural tanning active
SHOP NOW
LEARN MORE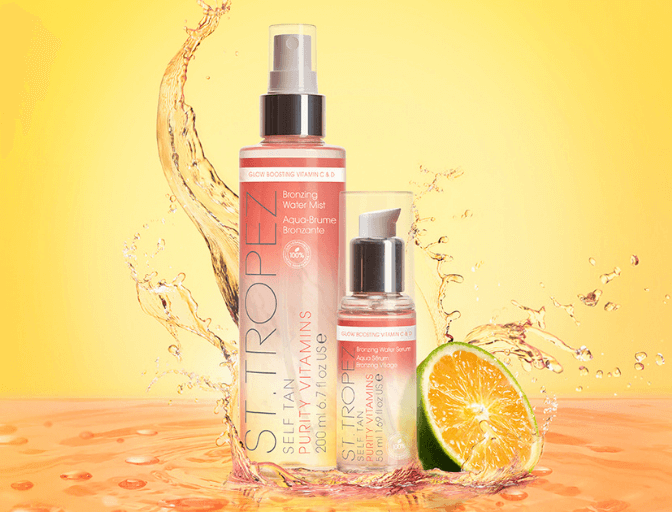 SELF TAN - PURITY VITAMIN
For a vitamin-enriched golden glow and an instant feel-good factor, try our NEW Self Tan Purity Vitamins Bronzing Waters. Infused with Hyaluronic Acid for a long-lasting, hydrating glow these bronzing waters have antioxidant properties and are bursting with Vitamin C & D boosters to brighten and protect your skin while mimicking the positive effects of the sunshine. So you can get your post-holiday sunkissed glow, without the harmful effects of UV rays!
Formulated with up to 95% natural skincare ingredients
No transfer & no rinse, so you can apply day or night
100% recyclable bottles, made from recycled plastic
100% clean,vegan-friendly & natural tanning active
SUNSHINE IN A BOTTLE, POWERED BY VITAMINS
SHOP NOW
LEARN MORE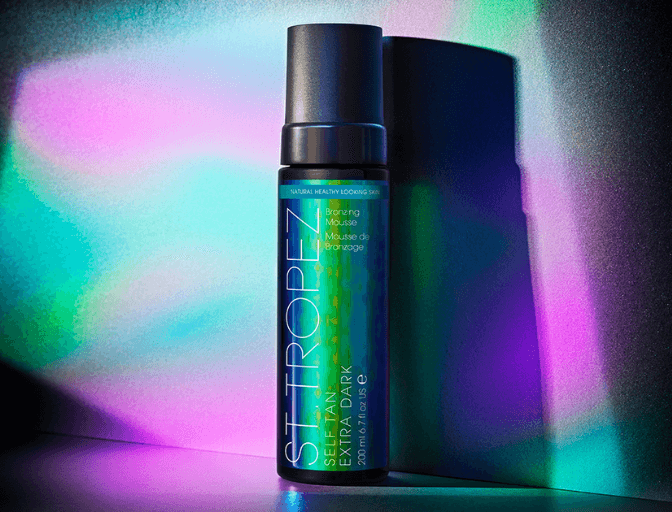 SELF TAN DARK
Achieve a natural deep, dark tan that tailors to your individual skin tone. Our bestselling and iconic Dark Tanning Mousse & Mist gives you that 1 week in the Caribbean olive tan, while our latest addition Extra Dark Tanning Mousse, gives you 2 depths of tan in one. Rinse off after 4 hours for our iconic Dark Tan or 8 hours for that 2 weeks in Bora Bora ultra dark bronze.
Easy to apply tinted mousses & mist to guide application
Streak-free, no self tan smell & no transfer
Hydrating, lightweight formulas for a long-lasting even tan
SHOP NOW
LEARN MORE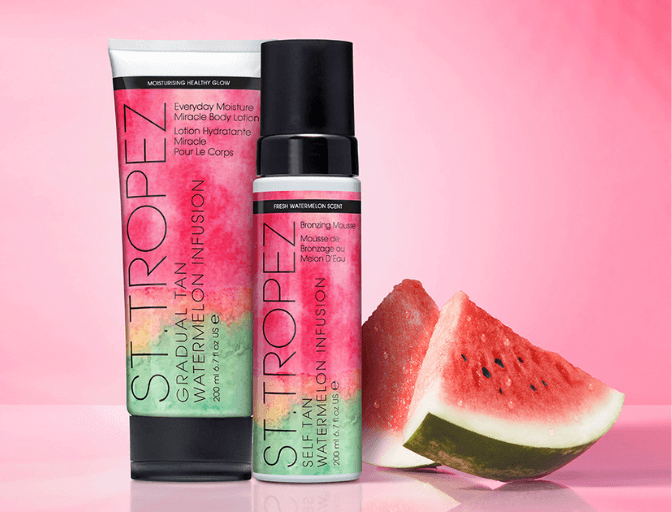 WATERMELON INFUSION
Feed your skin with our iconic and bestselling formats now in an uplifting and refreshing scent, leaving you with a mouth-watering glow, all year round.

With a wearable hint of tint to help guide application, this easy-to-use tanning mousse is packed with juicy goodness like Vitamin E & Watermelon Extract for their moisturising and protecting properties.

After that subtle, sunkissed glow that you can control? Try our Gradual Tan Moisture Miracle Body Lotion. This tanning lotion is infused with hydrating Hyaluronic Acid & Watermelon Extract to give you up to 72 hours moisturisation. Simply apply like a moisturiser daily, or as desired, to build your perfect tan.
SHOP NOW
LEARN MORE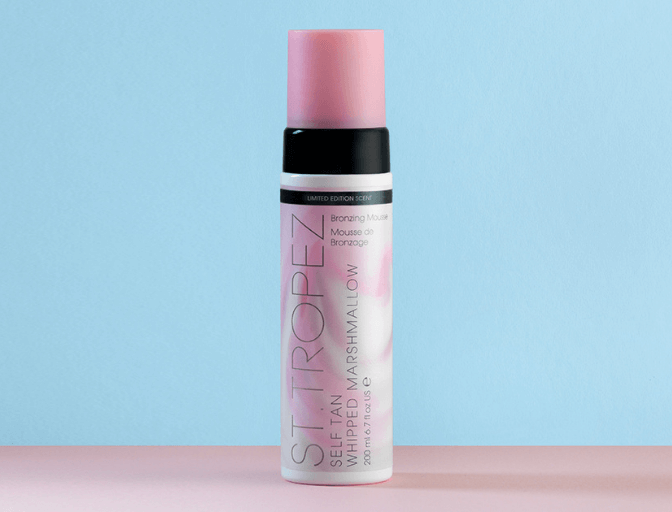 MARSHMALLOW
Infused with a candy shop scent and moisturising marshmallow extract, this delicious Limited Edition tanning mousse gives you the same natural and healthy-looking medium tan as our iconic and best-selling Classic Bronzing Mousse. Paired with our Luxe Applicator Mitt, it's perfect for a streak-free, flawless finish that lasts for up to 10 days.

SHOP NOW